To access the navigation bars:
Open an issue of the magazine 
Open a page with an article included on it (i.e. not just pictures/adverts)
Tap once on the screen to display the navigation bar.  
This has the following options: 
Note:  This feature's availability is established by the Publisher and may not always be available, especially on smart phones
Quick Navigation Options:
Table of Contents (Available on Tablets only)

Tap on the Contents Icon  > a list of all the articles in this publication will be displayed.  Swipe up or down and tap an article to select it and be directed to it.

Page Navigation:

At the bottom of the page there is also a page navigation bar.  This page navigation bar displays the whole content of the magazine in thumbnails: swipe left or right to see the different pages. Tapping on one of these thumbnails will direct you to that specific page.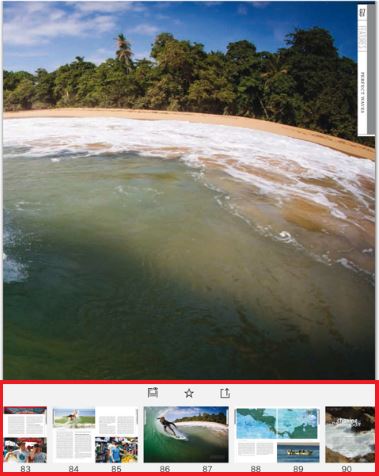 Note:  This feature's availability is established by the Publisher and may not always be available